CCC Free Ebook PDF in English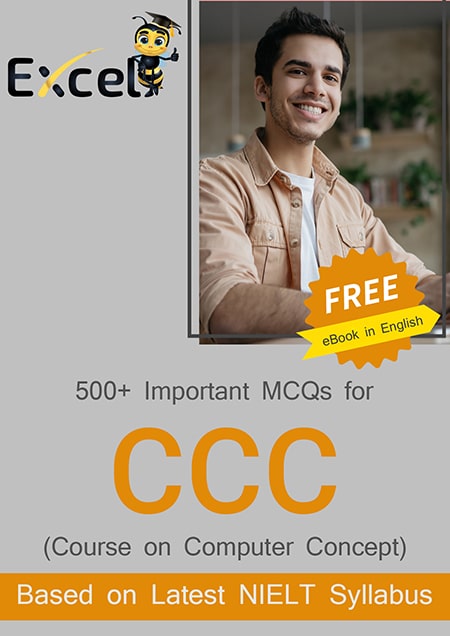 Subject: CCC
Language: English
Pages: 141
Downloaded by: 2806 users
Liked by: 1685 users
Last Updated: 2023
---
CCC stands for Course on Computer Concepts which helps an individual in attaining computer literacy and knowledge. You can participate in the CCC examination in both Hindi and English language. This free CCC eBook PDF is available in English. The main aim of this course is to provide a candidate with digital knowledge in Information and Technology. This E-book can help you earn a certificate from the institution by clearing the CCC examination.
Our free English CCC eBook PDF includes 500+ multiple choice and true-false based questions for your practice.
You can pursue the CCC Course from NIELIT, IGNOU, and other institutes. A CCC Course Certification holder will provide you with eligibility to become a Computer Operator, Data Entry Operator, Document Maker, Computer Office Administrator, Online Internet Operator, Billing Operator, etc. The CCC certificate is mandatory to have in many state and central government employment exams.
Questions in this free CCC eBook in English are based on the following latest CCC syllabus:
Introduction to computer
Introduction
Computer and Latest IT gadgets
Concept of hardware and software
Introduction to GUI-Based Operating System
Introduction
Objectives
Operating system
The user interface
Operating system simple setting
File and directory management
Types of files
Elements of Word Processing
Introduction
Objectives
Word processing basics
Opening and closing documents
Text Creation and manipulation
Formatting the text
Table manipulation
Mail Merge and Shortcut Keys
Spreadsheets
Introduction
Objectives
Spread Sheet Elements
Manipulation of cells
Functions of char
Computer Communication and Internet
Introduction
Objectives
Basics of computer networks
Internet
Services on Internet
Preparing a computer for internet access
WWW and web browsers
Web browsing software
Configuring web browser
Search engines
Communication and Collaboration
Introduction
Objectives
Basics of Email
Using Emails
Advanced email features
Instant messaging and collaboration
Making small presentations
Basics
Creation of presentation
Preparation of slides
Providing Aesthetics
Presentation of slides
Slide show
Social Networking, Social Governance, and E-mail
Structure of E-mail
Social Networking & e-Commerce
Facebook, Twitter, LinkedIn, Instagram
Introduction to Blogs
Basics of E-commerce
Overview of e-Governance Services like Railway Reservation, Passport, eHospital [ORS]
Accessing e-Governance Services on Mobile Using "UMANG APP"
Digital Locker
Digital Financial Tools and Applications
Digital Financial Tools
Understanding OTP [One Time Password] and QR [Quick Response] Code
UPI [Unified Payment Interface]
AEPS [Aadhaar Enabled Payment System]
USSD[Unstructured Supplementary Service Data]
Card [Credit / Debit]
eWallet
PoS [Point of Sale]
Internet Banking
National Electronic Fund Transfer (NEFT)
Real Time Gross Settlement (RTGS)
Immediate Payment Service (IMPS)
Online Bill Payment
Overview of Future skills & Cyber Security
Internet of Things (IoT)
Big Data Analytics
Cloud Computing
Virtual Reality
Artificial Intelligence
Social & Mobile
Blockchain Technology
3D Printing/ Additive Manufacturing
Robotics Process Automation
Cyber Security
Need for Cyber Security
Securing PC
Securing Smart Phone
---