Do you have lots of Excel sheets to merge into one? You can download and use Excel Sheets Merge Macro.
Combining a few sheets manually is possible but combining too many sheets manually is not possible every-time. ExcelBee Free Excel Sheet Merge Macro saves you hours of time by just adding two or more Excel sheets into one within seconds. This is very powerful and easy to use VBA tool that creates two buttons in your menu options, one for opening Excel workbooks and other to combine multiple sheets of data into one sheet. VBA Merge Sheets Macro is easy to use that merges MS Excel 2021, 2016, 2007, 2010 and 2013 files at a time.
How to Merge Sheets in Excel?
Download Excel Merge Macro
Enable Macros in the sheet and a menu option "Add-ins" will be added at the end in Excel ribbon, just after View menu option
Click on the "Open Files" button in "Add-ins" menu to open files (Refer first snapshots below)
Select Excel files at once (Use CTRL and mouse click to select multiple files)
Once files opened, you can see each excel sheet from all the files in current workbook and "Merge Files" button enabled in Add-ins menu
Click on "Merge Files" button and all files will be combined into one sheet named "Consolidate_Data" at left most
Now you can move and save this sheet to a separate Excel workbook
What Does This Macro Do?
Consolidates data from both new and old versions of excel files
Does not affect original files and data
Combines all sheets from selected Excel files
Can join more than two sheets and up to unlimited
Selects all sheets from any individual Excel workbook
Includes header once only
Combines all 2016, 2007, 2010 and 2013 Excel version files
Concatenates sheets left to right in sequence


Take Care: You would required to take some precaution while consolidating data for sanity and accuracy:
Data headers should be in the first row in all sheets
Excel Merge Macro also adds hidden rows
Avoid any blank row between data rows
Data header should be the same
Got a Security Error?
You may see the following error while opening file/enabling the above options:
A potentially dangerous macro has been blocked.
To enable the macro in newer versions of Excel, right click on the file, goto properties and check the Unblock option as shown in the below screenshot.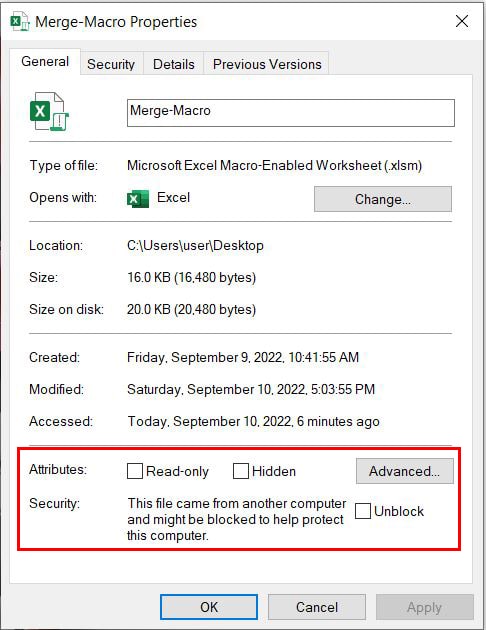 Macro has been tested in MS Excel 2021, 2016, 2010, 2007 and prior versions. Please report to us in case of any bug through our contact us page.
FAQs
How to merge two excel files into one in excel?
The Excel Bee Merge Macro can merge all the sheets from two or more Excel Files. Just Download, enable the Macro/Unlock Security and use the options in Add-ins menu to merge all Excel files.
Can I merge CSV files with this Merge Macro?
The Excel Merge Macro allows selecting Excel files only. But you can certainly merge CSV files even without any Macro or additional tool. Check this CSV Merge method using Command Prompt.
Is this tool Free?
Yes, its absolutely free to download and free to use.
Was this article helpful?