Excel Add-Ins are third party components which can be installed into MS Excel anytime. It extends functionality and power of Microsoft Excel. This is a powerful automation tool that can save your hours of hard word daily. All you need to write and install an Add-In and it will run on your command to complete the given instruction.
Add-Ins are used as strong reporting, control and analysis tools. It simply gives you power to customize your Excel application to enhance its utilization beyond imagination. There is no limitations on number of Add-Ins to install in your Excel.
Add-Ins can be turned on or off anytime. Here we will learn how we can Add or install new Add-In to our Excel 2016, 2007, 2010 and 2013.
Installing Add-In in 2007:
MS Excel 2007 has changed interface since Excel 2003. Although most of the functions are same but accessing menu options are a bit changed. Here is how you can as Add new Add-In to Excel 2007:
First click on the big round "Office Button" in the top left of the Excel window.


Now click on the "Excel Options" button at the bottom. You can also use the shortcut keys- ALT -> F -> I.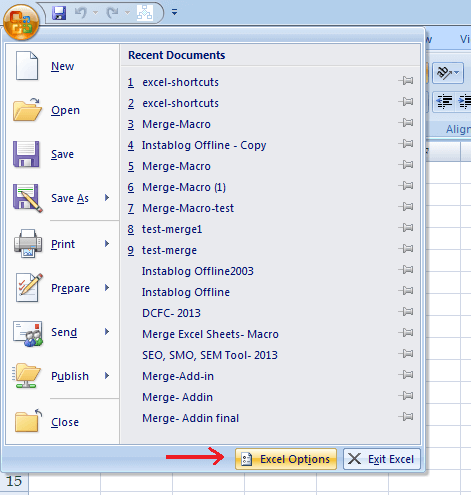 In the Excel Option window choose "Add-In" from the listed items in left panel. Check the dropdown below and select Excel Add-ins then click on go.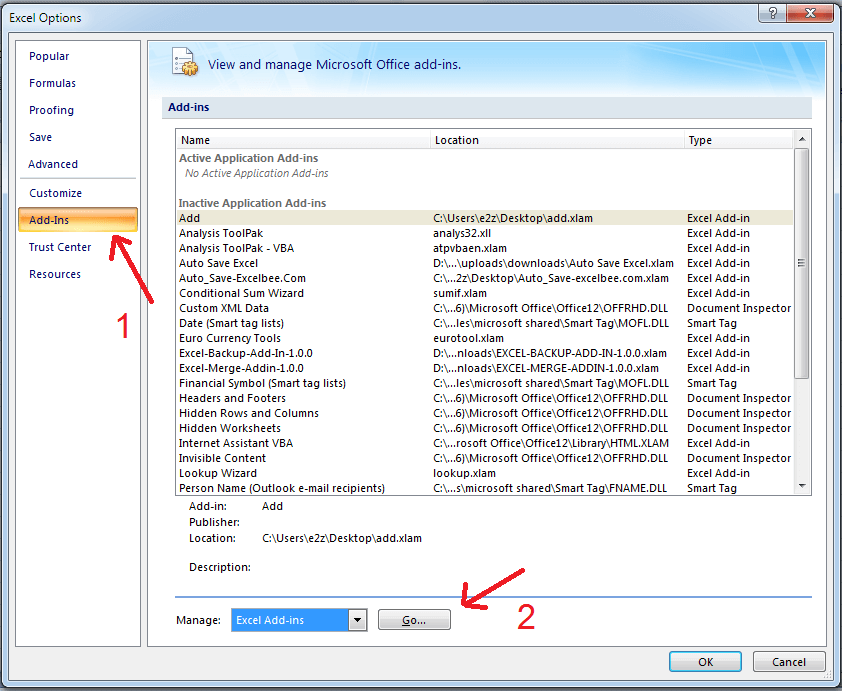 You will get a list of available Add-Ins by default. You may choose from the available Add-Ins and if you have additional add-In saved in your local system to install, then click on browse.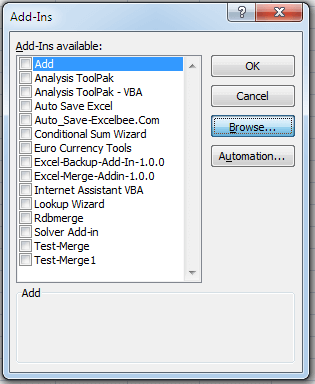 Choose the Add-In from your local system and click on "OK". Check that the added Add-In checkbox is also checked.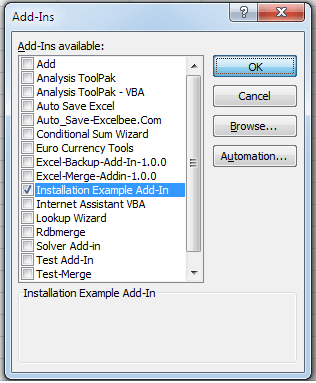 And here your Add-In is ready to use.
Installing Add-In in 2010:
Add-In installation process is almost same for both 2007 and 2010. Only difference is you need click on "File" option instead of "Office Button"" and select "Options" from the menu list instead of clicking on "Excel Options" to open "Excel Options" window in Excel 2010. Rest of the process is same as Excel 2007.


Installing Add-In in 2010:
Installing Add-In in Excel 2013 and 2016 is same as installing Add-In in 2010. So the only difference is in menu options in 2007 and 2013, rest remains same.
Hope it helps.
Was this article helpful?